How Can We Help?
Search for answers or browse our knowledge base.
Adding File Attachments From the Map
Adding an Attachment
To add a file attachment from the Onsight Map view, click on any field work order pin on the map. Then click of the paperclip icon, labeled Attachments. This is where you can view all existing attachments on the FWO. To add one, click Attach New File.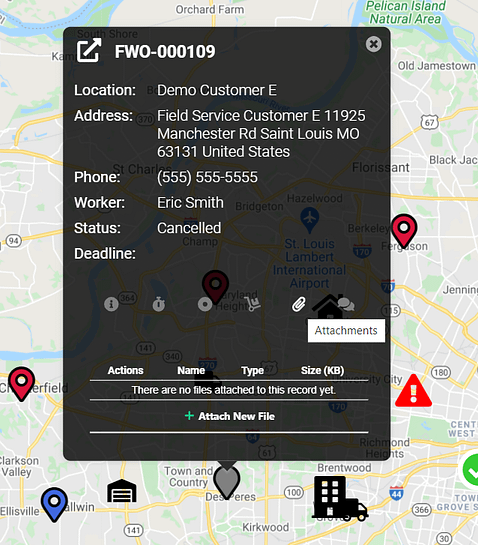 The FWO opens in a new tab, where you can then go to the Attachments tab.
Attach a New File
Click New File. Another window will open up. Fill out the appropriate fields for your file.
Attach an Existing File
Search for your existing file in NetSuite in the Attach Existing Files field.
Select your file, then click Attach.
View the Attachment
The new attachment will show under the Attachments tab in the FWO record
The attachment will also be viewable now on the Onsight Map
Here, you can view or download the attachment by clicking the eye and download icons respectively.