How Can We Help?
Search for answers or browse our knowledge base.
Overview
The map tab is a screen where you can see an overview of the all the locations for your field work orders, marked by a pin.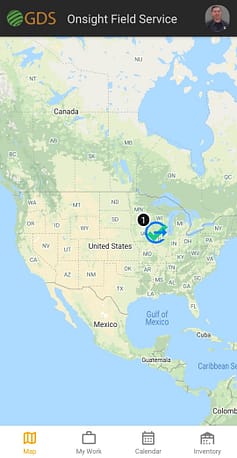 Navigation
To move: Drag with a single finger.
To zoom in on the map: Pinch with two fingers.
To zoom out: Spread with two fingers.
To view in isometric mode: Swipe up with two fingers. Return to flat mode by swiping down with two fingers.
To rotate: Hold one finger in place and you a second finger to swipe around the held finger.
To restore orientation: Tap the compass in the upper left corner.
Pins
The pins on the map tab are representative of field work orders. The field work orders can be tapped on to provide additional information.
The pin details menu providea the ability to:
Get Driving Directions: Opens the address of the pin in Google Maps as the destination, to provide driving directions.
View Record: Opens the FWO record pertaining to the pin.
Close: Closes the pin details