How Can We Help?
Search for answers or browse our knowledge base.
Updating Company Account Information
Overview
To update the account information, tap your profile icon in the upper right hand corner when on one of the main tabs. Then tap Change Company Account Settings.
Note: You must log in as an administrator or a project manager to see these settings or make any changes.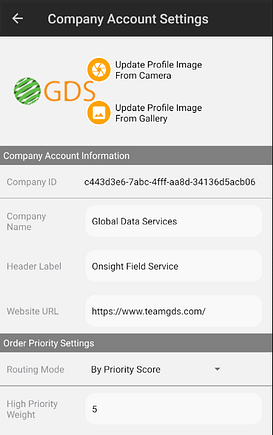 Editable Fields
Company Profile Image. See here.
Company Name: The name of your company.
Header Label: The label that appears in the mobile app top header for everyone in the company.
Website URL: The company's URL.
Routing Mode: One of: By priority score, By distance, By start time.

By Priority Score: Scores and sorts FWO routing based on weight, high priority, and time left until start time.
By Distance: Routs to the closest FWO first.
By Start Time: Ordered by estimated start time.

High Priority Weight: High Priority FWO weighting in the By Priority Score routing method.
Mileage Priority Ratio: Miles to FWO priority ratio.
Start Time Priority Ratio: FWO start time priority ratio.
Following standard address fields for the company address.
Change the Company Profile Image
There are two options on how to change the company profile image:
Using your camera: Tap Update Profile Image From Camera. Then take an image of your liking, crop and/or rotate the image, and tap Upload.
Uploading an image from your device's gallery: Tap Update Profile Image From Gallery. Then select an image from your gallery and tap Upload.
Once you have finished making changes, tap Save at the bottom of the page.